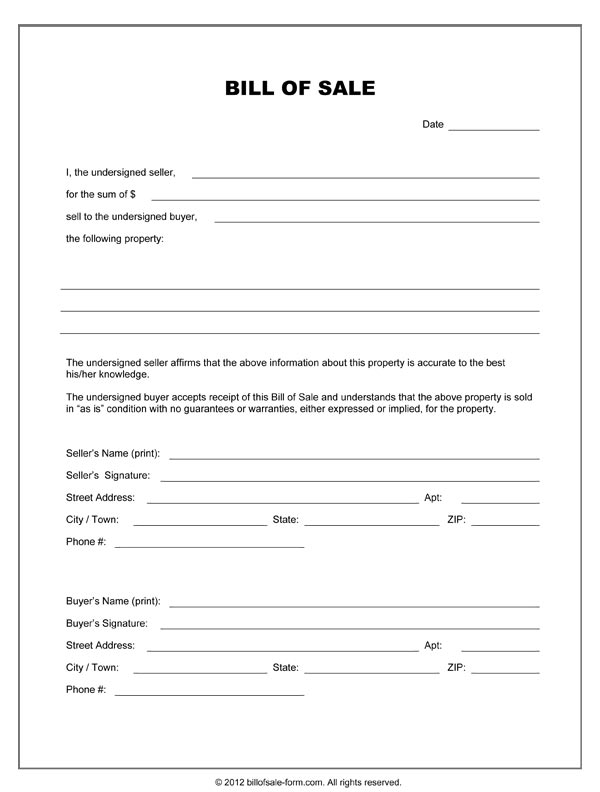 If you are selling your valuable assets in private, you will definitely need a blank bill of sale form to draft a bill of sale easily and quickly.
A bill of sale is a legal document that you, as a seller, prepare to transfer the ownership of the asset being sold to the buyer. A bill of sale is a basic agreement for a sale of goods in private sales. A bill of sale is also known as a sales receipt, sales slip, proof of payment, or proof of sale.
Both seller and buyer should fill out all information on the bill of sale and retain a copy of the signed bill of sale document as the proof of payment.
Notice that besides this blank bill of sale form, we also provide another specific bill of sale forms for car, motorcycle, mobile home, used car, boat, trailer, gun, equipment, etc. You just need to browse our site or use the search box to find the form faster.
The "AS IS" term
One of the most important terms on the bill of sale that the buyer should pay attention to is "AS IS" term. It means that the buyer accepts the item with its current conditions and with all faults the item could have, whether the faults are obvious or not.
From seller's perspective, "AS IS" term protects the seller from any issues that may result in a refund due to the faults of the item after the buyer receives and pays for it. It also means that the seller is not liable for any damages of the item after the sale.
The must have information on the bill of sale
The blank bill of sale must include the following essential information:
Complete seller and buyer's name and address.
A comprehensive description of the asset or property being sold.
Total amount to be paid in full for the title's transfer.
Date of purchase.
Signatures of both seller and buyer.
Additional clauses from the seller such as "AS IS" condition with no warranties.
Blank bill of sale formats
We provide you with a free blank bill of sale form to help you draft your own bill of sale that suits your needs. Our blank bill of sale form is available in both Microsoft Word and PDF formats. Both of them provide spaces so you just have to fill out the appropriate information.
If you want to modify some sections in the bill of sale form, you should use the Microsoft Word version. However, Microsoft Word software is required to change the form. In case you don't have Microsoft Word, you can use any PDF reader software e.g., Foxit Reader or Adobe Acrobat Reader to use a blank bill of sale form in PDF format, just fill out the highlighted fields, print out the form, and sign it.
Using our blank bill of sale form will absolutely save you time and speed up your paperwork of the sales transaction while protecting you from any future issues. Why don't you start downloading and creating your bill of sale now?