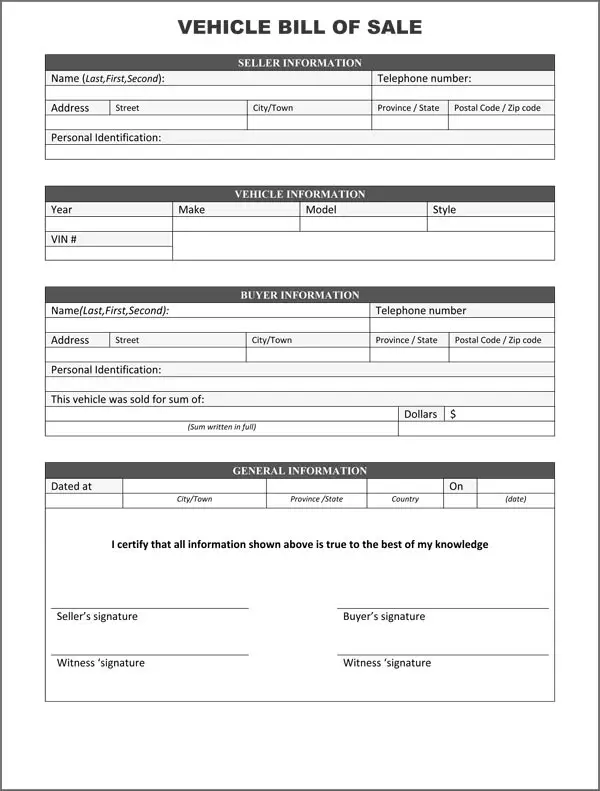 If you are selling your motor vehicle or used car, you will need a vehicle bill of sale to complete the paperwork for the transaction. We provide you with a free vehicle bill of sale form to help you write your own bill of sale quickly and easily.
The bill of sale form is a legal document to legally transfer the title of the vehicle from the buyer to the seller. It also helps protect both seller and buyer from future legal issues.
The bill of sale for motor vehicle form is very simple to use. We provide you with two copies of the forms, one in Microsoft Word document format and another in PDF form. If you have Microsoft Word installed in your computer and you want to customize the form, just download the Word version otherwise, you can download the PDF version.
Vehicle bill of sale form's particulars
The bill of sale form provides essential information about the motor vehicle or used car being sold as well as seller and buyer. The following informational fields are given in the form:
The seller's information including full name, street address, city, state, zip code and personal identification as well as phone number
The buyer's information containing name, address details and personal identification
Complete vehicle's information such as:
Year of vehicle
Make of the vehicle
Model and style of the vehicle
Vehicle information identification (VIN) number
The purchase price is written in full.
In addition, that the location and time information where and when the bill of sale is written is also provided including city, state country
Last but not least, the seller, buyer and witness' signature sections are also available for completing the bill of sale.
How to use the vehicle bill of sale forms
To use a bill of sale for motor vehicle form Microsoft Word version, you need to download it, extract the zip file using zip software and create a new bill of sale from the template file. The advantage of using the Word version is that you have the ability to change the form to suit your needs such as you can insert additional clauses or remove unwanted sections.
The PDF version of the form is provided in case you don't have Microsoft Word to edit the form. In order to use the bill of sale form PDF, you just need to download it, fill out the appropriate fields and print it out.
Download the easy to use vehicle bill of sale form now to make your own vehicle bill of sale and have fun.