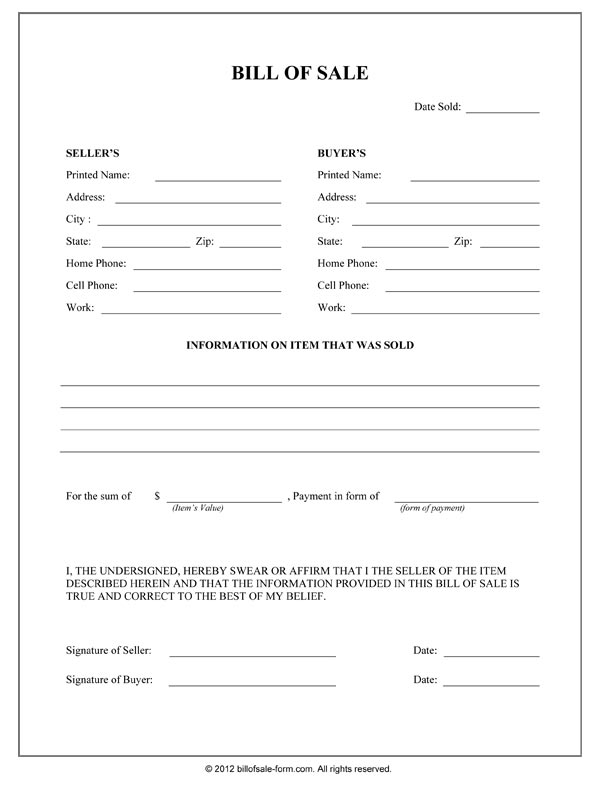 General bill of sale form is a legal document used to acknowledge the transfer ownership of a property or asset from one individual to a new owner. It is mainly made by the seller for the buyer who seeks protection against fraud upon purchase of the property or asset. A general bill of sale document features only two parties; the buyer and the seller. It is a binding document that is normally used during the private sale of any valuable goods.
You can download a free general bill of sale form to draft a bill of sale fast and easily. Notice that besides this generic bill of sale form, we also provide you with a specific bill of sale such automobile bill of sale form, motorcycle bill of sale form, used car bill of sale form, and boat bill of sale form, etc. In case you sell a specific item such as automobile, motorcycle, used car, etc., you should use this specific bill of form.
Importance of a general bill of sale form
The main purpose of a general bill of sale form is to record the private sale transaction and ensure that the transaction was conducted in a fair manner that was favorable to both buyer and seller.
The bill of sale encourages both seller and buyer to discuss essential factors like the warranty and terms before making the transactions.
The bill of sale is also used as an evidence in a law court in a case of a dispute.
The bill of sale acts as a proof or ownership transfer from the seller to the buyer. It also limits the sale of stolen or illegally seized property and asset.
General bill of sale form details
The following information should appear on the general bill of sale form:
Full and legal names of the buyer and seller.
Identification information including phone and permanent address of both buyer and seller.
A detailed and complete description of the property that is being transferred.
The exact amount of money of the property.
The warranty that the seller is legally authorized to sell the property.
Date of the transaction and when the bill of sale is signed.
Signatures of both participants, seller and buyer.
Signature of a legal agent authorized by law to witness the signing of the bill of sale if required.
Though not widely used during the purchase of furniture and other second-hand goods, a general bill of sale form is important when purchasing expensive goods like an equipment, jewelry, etc. This is because; it protects you from uncalled for losses that may occur if the buyer happens to purchase stolen goods unintentionally. It also protects the interests and rights of both the buyer and seller by formalizing a contract in writing.