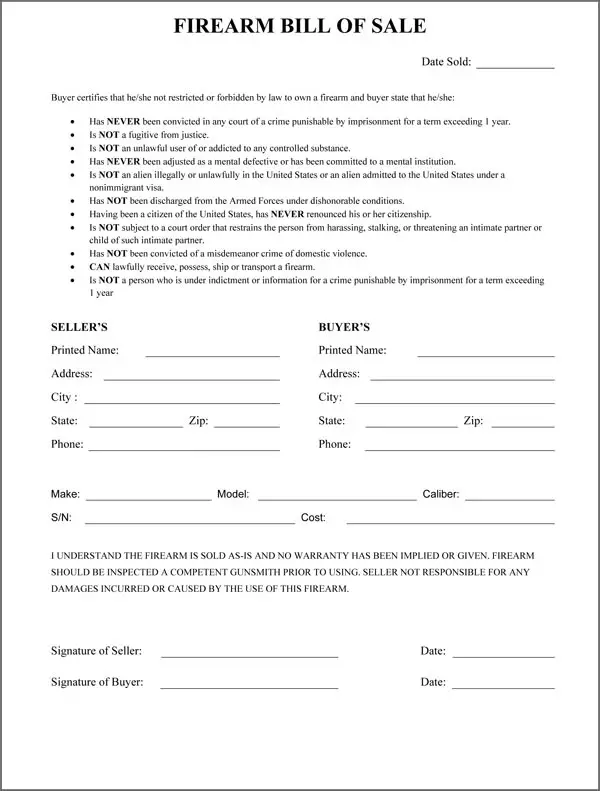 A firearm bill of sale form is a legally binding document that contains the details of a transaction between two parties in a given firearm. In addition to the two parties i.e. the buyer and seller, the firearm bill of sale form also includes the details of the firearm and the witness to the transaction.
The Importance of a Firearm Bill of Sale Form to the Buyer
The firearm bill of sale absolves the buyer from criminal activities undertaken with the firearm prior to its purchase. It draws a timeline upon which the authorities investigating any misuse of the firearm can rely on to determine when in actual fact the ownership of the firearm changed hands vis-a-vis the time that the alleged crime was committed.
The form also enables the buyer to recover his/her weapon if it is ever stolen or somehow lost. The buyer can claim it from relevant authorities within their county or state including the sheriff's department where it may have been stored for safe keeping. The details on the firearm bill of sale form will critical in identifying the buyer as the true owner of the recovered weapon.
The Importance of a Firearm Bill of Sale Form to the Seller
The seller is able to distance himself from any wrongdoing committed through the use of a firearm after it has been sold. The date the seller sold the weapon will be indicated on the firearm bill of sale form in addition to details of the person to whom it was sold. The form will thus prove vital in solving criminal cases that may arise after the sale of a firearm.
Firearm Bill of Sale Details
The components required for a firearm bill of sale form are as follows:
Serial number, model and make of the firearm
Permit number issued by state and county for the firearm
Seller's permit carry number
Dealer's name, permit number and location in situations whereby the firearm transaction involves a dealer
The individual name, signature and address of the buyer, seller and witness involved in the transaction
The firearm bill of sale form is easily available for download and quite easy to comprehend. It is only prudent that you should fill it out when purchasing or selling a firearm so as to protect yourself from civil and criminal liabilities in future.
Download the firearm bill of sale form to make your own bill of sale quickly and easily.