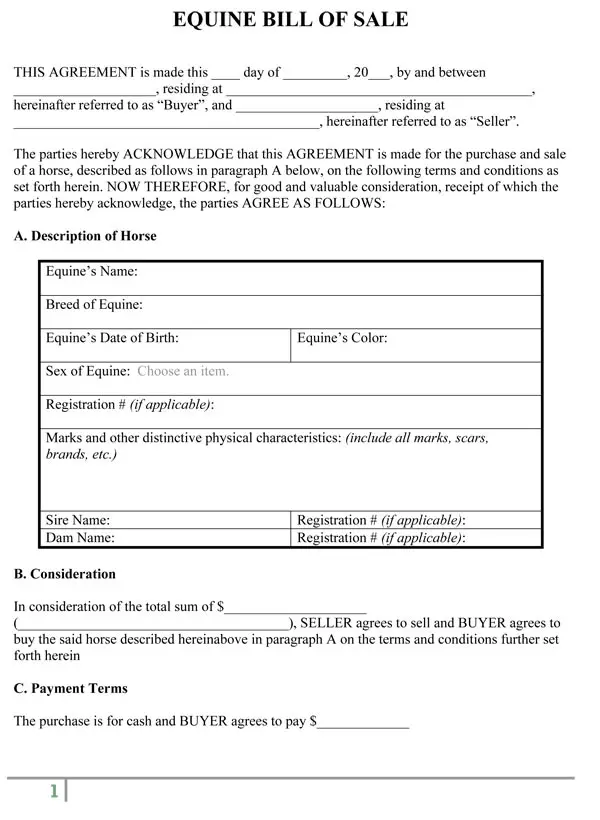 Purchasing a horse can be an expensive endeavor, and as such, both buyer and seller should be thoroughly protected in and after the transaction. An equine bill of sale form is ideal for both parties, as it can protect the seller and purchaser in various ways.
Similar to another bill of sale forms, an equine bill of sale form acts as a receipt for the transaction. It is a legal document that acts as a written record for the purchase and is kept between the seller and buyer of the horse. The conditions of the bill should effectively give the rights to the purchaser of the animal, transferring the ownership of the horse from seller to buyer.
The importance of an equine bill of sale form is Indubitable, as it will act as a receipt for the purchase, creating a record of the transaction. This affords certain rights to both parties and ensures that the transaction is concrete and official. As a buyer, the Bill of Sale protects from any potential fraud or mishaps found later on that would have negated the purchase in the first place. For the seller, a Bill of Sale covers all the necessary rules and regulations within the transaction, so as to protect from any misunderstandings between seller and purchaser.
A proper Equine bill of sale should cover all the necessary components of the transaction, including name and contact information of both buyer and seller, the date of purchase, all information on the animal being purchased, payment terms, and proper signatures. The form may contain a bit of legalese, but it is not a necessary requirement. With all of the necessary information covered on the Equine bill of sale form, the transaction can be completed within proper and legal measures, ensuring protection for all parties involved.
We provide you with a  free equine bill of sale form to help you create your own bill of sale quickly and easily.