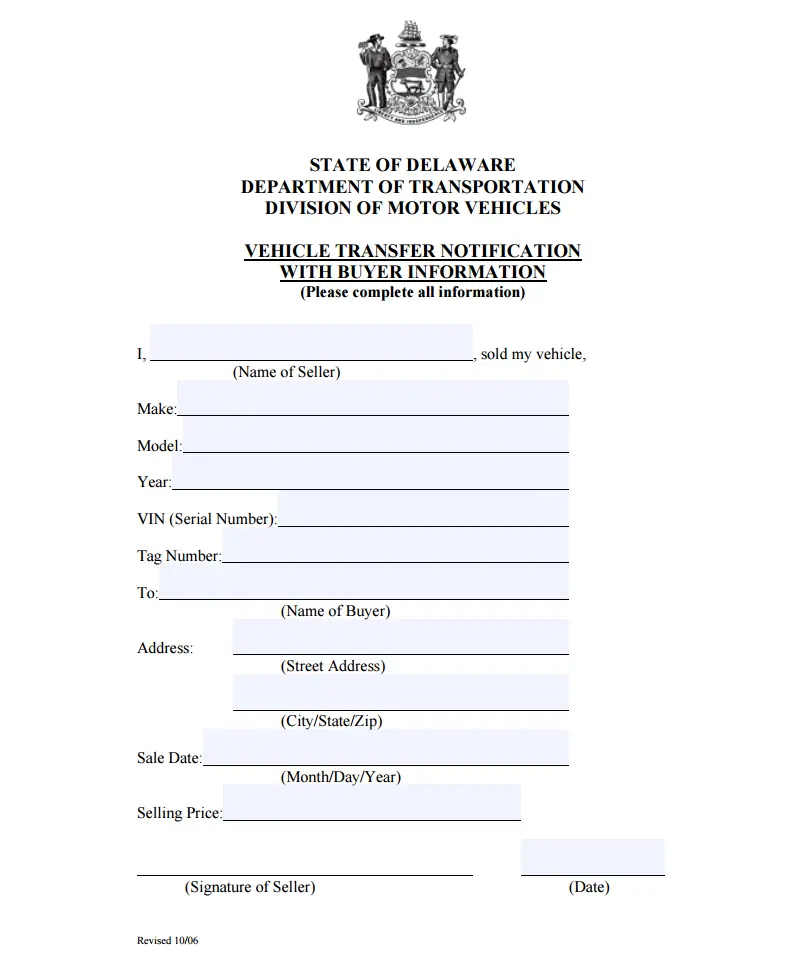 The State of Delaware does not require the seller to complete a bill of sale when selling a vehicle and other valuable personal property. However, it does provide a form named vehicle transfer notification with buyer information, which is similar to a vehicle bill of sale.
You can download the state-approved form below. It is a fill-able PDF form so you just need to enter all information and print it out.
The information on the form that the seller must fill out is listed as follows:
Name of the seller
Vehicle detailed information including Make, Model, Year, VIN, Tag Number
Name and address of the buyer
Sale date and selling price
Signature of the seller together with the date of the signature
Notice that this is not an AS IS bill of sale. It means that the buyer can claim a refund in case the vehicle has an issue. Therefore, if you want to sell your vehicle AS IS, you should use the following form.
This bill of sale has an additional AS IS clause that will protect you as the seller from any future disputes.
If you are selling a boat or any other personal property privately, you should download the respective bill of sale such as boat bill of sale, equipment bill of sale, etc., those forms are designed specifically for each kind of asset.
References
http://www.dmv.de.gov/forms/forms_manuals.shtml – Delaware DMV forms and manual.