If you are selling a used car in the Connecticut State, you need to have a complete bill of sale ready. The state of Connecticut provides a bill of sale in PDF format that you can fill out online and print. This form is referred to as the H-31 form.
You can use the H-31 form for selling a motor vehicle, vessel or other privately. It has an instruction from DMV that the seller must complete, sign, and handover the bill of sale to the buyer. And buyer must give this form together with other forms for vehicle registration. It also includes spaces for filling out the following information:
Both buyer and seller's detailed information: name, address, city, state, and zip code.
Description of the vehicle or vessel. For a vehicle, it has spaces for make, year, colors, model name, odometer reading, vehicle identification number (VIN). For a vessel, it requires year built, hull id, color, model, length, the state where last numbered, and previous number.
Selling price, the signature of the seller, and the date. It does not require the buyer to sign.
If you sell the vehicle AS IS, you should not use this bill of sale form since there is no statement indicates this. In this case, you can use the following bill of sale designed specific for selling used vehicle in the Connecticut State. This bill of sale also has additional disclosure and warranty statements to indicate that the mileages are correct and the vehicle is sold AS IS.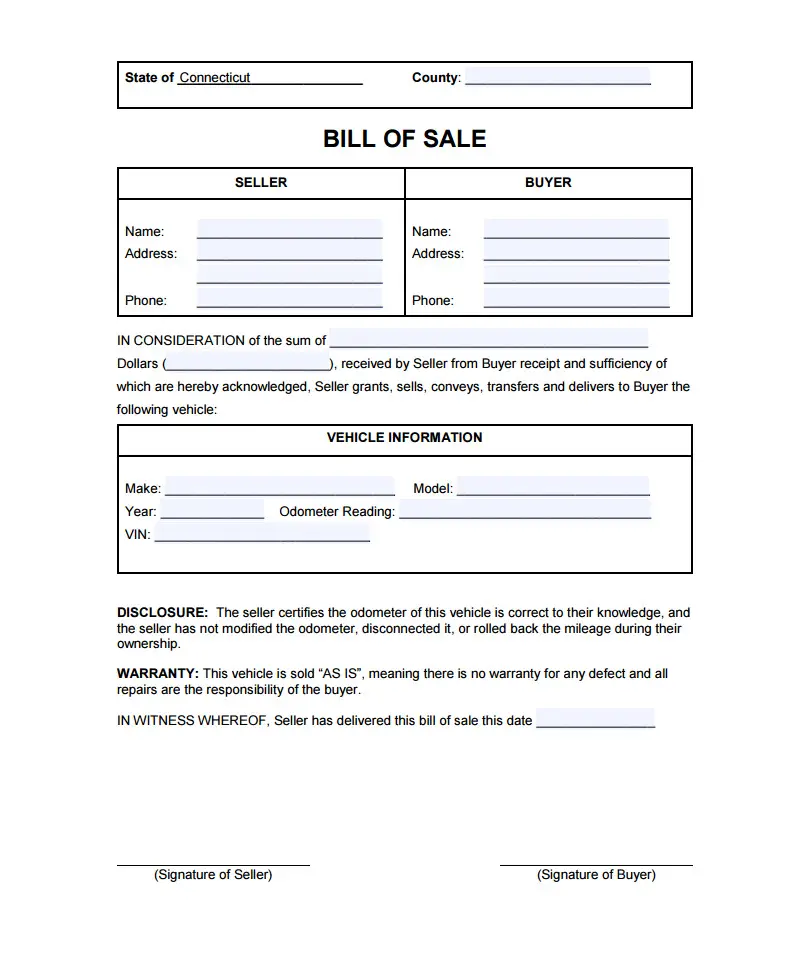 In case you are selling other assets privately such as equipment, gun, mobile home, etc., you can use the corresponding bill of sale form e.g., equipment bill of sale, gun bill of sale, or mobile home bill of sale. There is also a blank bill of sale designed to cover other assets that you want to sell but could not find a specific bill of sale for it.