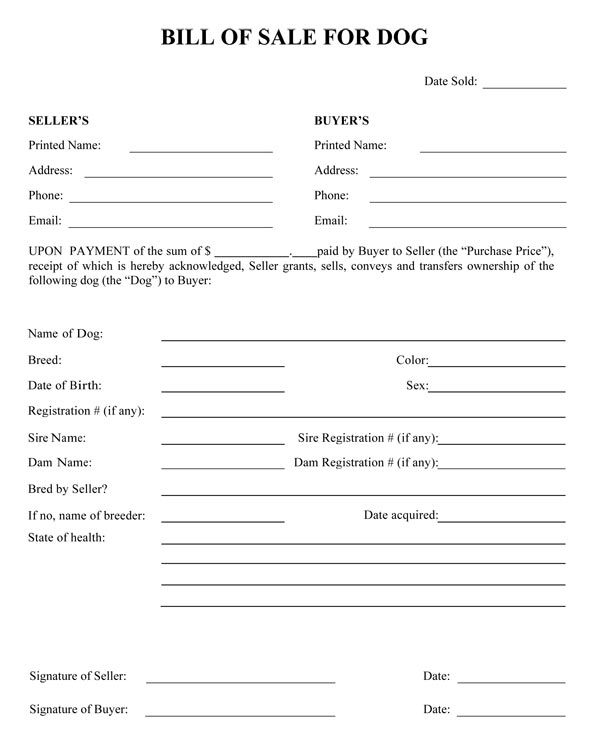 When buying a dog, it is very important to make sure that the sale agreement is properly and legally accomplished. For this reason, it is important to sign a bill of sale for dog. This is a legal binding document that gives evidence of the transaction and all the terms and conditions of the sale agreed upon by both the seller and the buyer.
The bill of sale for dog carries with it a lot of importance for both the buyer and the seller. It serves as legal proof for the buyer that they have bought the dog and paid the full amount of money required. One is therefore entitled to full ownership. For the seller, a copy of the bill of sale shows the person to whom the dog is sold and the actual amount for which it is sold. At the same time, it ensures that the dog ends up at the right place where all its rights are bound to be observed. It, therefore, gives the seller peace of mind.
There are several important components of a bill of sale for the dog. These include an indication of the amount for which the dog is sold. It also has the full contact names and addresses for both the seller and the buyer. It also bears a full description of the dog; its sex and breed and also the name. Any registration made on the dog should also be indicated. If there are any warranties about the dog they should also be indicated. The bill should also indicate whether the dog is intended for any other duties apart from companionship. The seller may also include a guarantee on the health of the dog and freedom from any inherited diseases. In case any deposit is required, the bill should clearly indicate if this deposit is refundable or not if the required dog is not available. The buyer may also be required to guarantee the general well being of the dog by giving it utmost care through a licensed veterinarian.
Download the bill of sale for dog to write your own bill of sale quickly and simply.