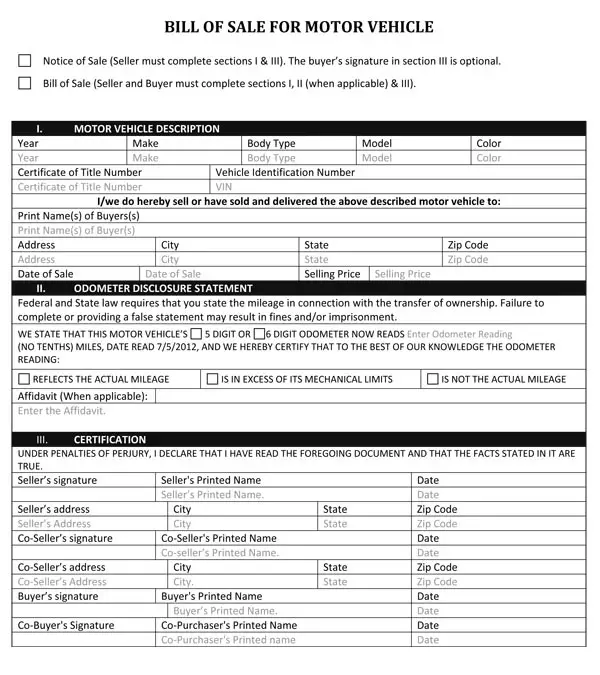 Selling or buying a vehicle is a serious undertaking that calls for utmost care. The sale agreement should always be legally recorded using an automotive bill of sale form.
The automotive bill of sale form serves as a legal document of the sale of a car. It is a very important document for both the buyer and the seller. Besides legalizing the vehicle transfer, it is used in some jurisdictions for calculating the tax on the sale.
To both the buyer and the seller, the form serves as a guarantee of the sale. To the seller, it acts as proof that the vehicle is, from the date indicated, the legal responsibility of the buyer. Any claim that may arise from a third party cannot therefore be directed to the seller.
For the buyer, the bill of sale form serves as evidence that he / she now legally own the vehicle once the transaction has been signed by both parties. It can also be used to detect possible odometer fraud as some vehicle owners may interfere with odometer readings to indicate the wrong vehicle mileage. It therefore becomes an assurance that the buyer is not being defrauded. Essentially, the automotive bill of sale form guarantees that the transaction is legal, professional and reliable.
The automotive bill of sale form should have some basic components. To start with, it should bear the name and address of the seller who declares to be the legal owner of the vehicle now on sale. Details of the buyer should also be recorded.
It should also have the vehicle make, model, year of manufacture and the vehicle identification number (VIN).
There should also be an indication of the amount of the money received by the seller. The odometer reading at the time of sale should be indicated.
There should also be a declaration that the vehicle is free from any fees, taxes and other liabilities. Finally, the form should be signed by both parties and possibly a witness and the transaction date indicated.
Download a the following printable automotive bill of sale form to prepare your own bill of sale quickly and easily.