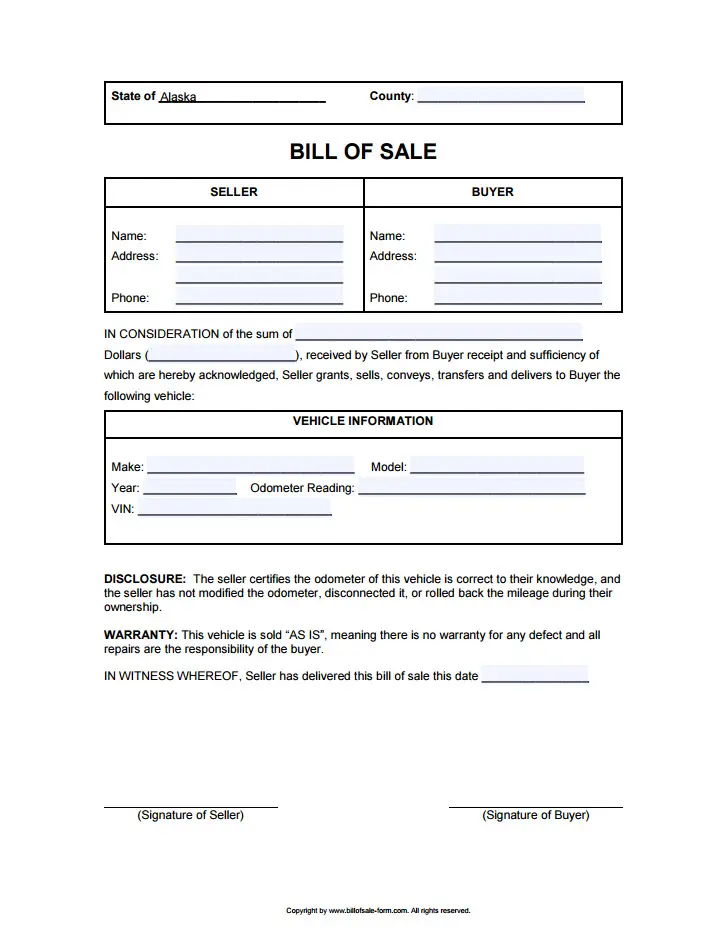 When you sell or buy a vehicle in Alaska State, it is a good practice to complete a bill of sale. The Alaska bill of sale is a legal document that provides detailed information on the transfer of the vehicle from the seller to the buyer.
Note that this page provides you with vehicle bill of sale in Alaska only. In case you sell the particular assets such as snowmobile, trailer, boat, etc., you can check it out the snowmobile bill of sale, trailer bill of sale, and boat bill of sale. Browser the site or use the search box to find a specific bill of sale you need. In case you cannot find any, you can always use the blank bill of sale or general bill of sale.
The State of Alaska does not require seller and buyer to sign the bill of sale when selling or buying a used vehicle. However, they recommend both parties should have the signed bill of sale to avoid any issues after the transaction.
Although the State of Alaska does not provide a fillable or printable bill of sale form for vehicle sales, it does require the following information on the document:
Detailed information about buyer and seller including addresses and phone numbers.
Complete vehicle information such as Make, Model, Year, Odometer reading, and Vehicle Identification Number (VIN).
Full price of the vehicle and date of sold
Signature of both buyer and seller.
Based on the required information, we created a fillable bill of sale in PDF format for you if you sell or buy a vehicle in Alaska State.
In addition, to protect the seller, we included the AS IS term in the bill of sale. It means that the vehicle is sold AS IS. The buyer will be responsible for any defect or faults of the vehicle whether they are obvious or not.
There is an odometer reading disclosure to protect the buyer from any fraud that may happen to the current situation of the vehicle.
To complete the sales transaction, the seller must provide the buyer with the title. To transfer a title legally, the seller is required to sign and release on the title, and complete the assignment to the buyer. Then the seller must notify Alaska DMV about the status of the title transfer. For more information on the selling vehicle in Alaska, check it out the guide from DMV.